8 Tips for Managing the Most Unusual 'Silly Season' Yet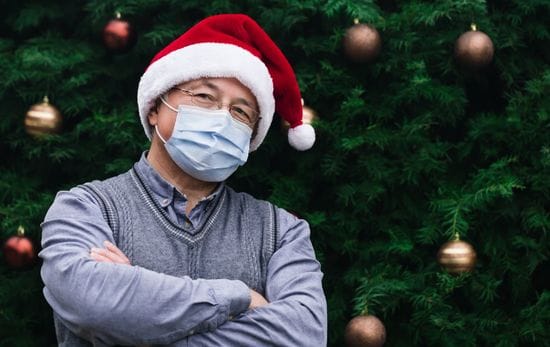 As we move towards the back half of November things start to shift to 'festive' season and the Christmas and New Year celebrations start to kick into full gear. In fact, I heard it described recently by another business owner that here in Australia, after Melbourne Cup it's pretty much a runway into Christmas.

Catch ups are booked in advance, parties organised, shutdowns scheduled, and Kris Kringle plans are definitely being made by someone.
But in 2020, the year that has delivered more chaos than calm, more extraordinary than ordinary, more distance, change, pivots and reinventions then any time in recent memory, will this Christmas period will be the 'silly season' we are used to.

Whilst it may look different to other years, it is entirely likely that this year, more than ever, the silly season could get very very silly with people looking for any reason to farewell the year that has been, celebrate making it through and welcome with open arms a fresh new year.
So how can you as a leader manage this period, especially when you yourself might not be feeling the excitement to celebrate and feeling less willing to tolerate the slide in focus and increase in frivolity during the coming weeks?

Here are my top 8 tips for staff management during the 'silly season':
1) Don't be a bah humbug!
There is nothing that will turn people off their work quicker at this time of year than a distinct lack if Christmas cheer! Undoubtedly the lack of focus which often occurs towards the end of each year can be frustrating for managers and business owners, however failing to 'embrace' the fun of the season will only amplify the situation.

2) Set clear guidelines
Set the guidelines for what is 'acceptable' and 'unacceptable' in the workplace and make sure you enforce them. If the guidelines are set and made clear to all employees, there can be no excuses, and no confusion as to what you will and won't tolerate at work related functions, and in the workplace. Where people don't know the rules they will make up their own, so set the boundaries, and enforce them.

3) Check Your Policies
This time of year is when your drug and alcohol policy may need to be referred to. Remind staff of the policy, including any rules around consumption at work related functions, at work and at any time they are representing the business. This creates awareness and communication, and most importantly clarity.
Another policy which may need a refresh and reminder is your Social Media Policy, especially on platforms where they either represent the business, or are associated with the business in any way (even having the company listed as their place of work). A comment which may seem 'funny' to someone late after a night out, may have a detrimental impact on another staff member, or in fact your business as a whole.

Lastly your workplace surveillance policy. Whilst no one wants to spy on their staff, having this policy really allows you to closely monitor if you have concerns. This might include the ability to check computer and email use, viewing surveillance camera footage or reviewing where company vehicles are travelling to.
Don't have these policies in place yet? Now would be a great time to do that.

4) Create a COVID Safe Celebration
Organise your Christmas function so that staff can enjoy themselves and have a good time, in an environment which is controlled and COVID safe. This may mean hiring a private room / venue, organising transport to and from for staff, ensuring responsible service of alcohol and making sure there are some 'responsible' attendees looking out for those who may be enjoying the event a little 'too much'.
5) Leverage Annual Leave Accruals
If you haven't already communicated with staff about any Christmas close downs, now is the time to do that. This is a great opportunity to reduce annual leave accruals. In fact, this can be a great time to encourage staff to take additional annual leave, especially if they have excess accruals and you know January will be quiet. Make sure you remind them to get applications in early to allow you time to properly schedule the team so you're not short staffed at a critical time,

6) Make work FUN!
As the saying goes 'if you can't beat them; join them'. Embrace the festive nature of the season and make working fun! Perhaps you can decorate the office, change the way you answer the phones, have daily prizes for achieving goals and targets, encourage staff to dress in Christmas colours / themes or play Christmas carols in the office.
7) Get Flexible
Figure out ways to get the work done, but in a way that allows staff some flexibility to enjoy the various events they may have on (or even just the great weather). Perhaps you can change hours for some or all of your staff so that some staff start early and leave early and others do the late start and finish. Another great idea is to work an extra half hour Monday to Thursday, and then allow staff (where possible) to leave 2 or 3 hours early every Friday.

8) Be Tolerant and Patient
Some of your team may not celebrate Christmas and as such this time of year may not be as fun for them. In addition, this year has been really tough for some, so they may not be feeling the love for Christmas that they usually do. For these team members be patient, kind and supportive, invite them to participate as they feel comfortable but don't force too much upon them if they are really not comfortable with it.

Author:
Kristy-Lee Billett
About: Kristy-Lee has worked in the field of HR and recruitment since 1999. She holds undergraduate qualifications in Psychology, a Masters in Human Resource Management, is an Professional Member of the Australian Human Resources Institute.
Connect via:
LinkedIn