8 Ways to Increase Employee Engagement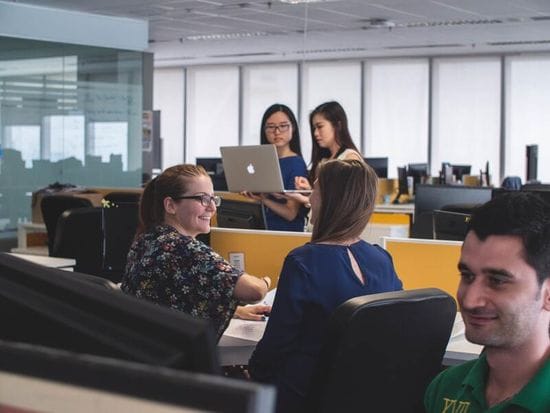 Employee engagement is like your secret weapon that can really differentiate you from your competitors. Engaged teams attract the best and brightest, and foster environments which encourage productivity, creativity and best practice at every level. We know that engaged teams can lead to productivity and profitability increases and disengaged teams cost time and money, so how can we practically improve employee engagement?
Here are some key tips to get you started:

1) Operate from a Place of Purpose

Employees thrive in businesses which are driven towards a clear purpose. Be clear on your purpose, they 'why' for your business and your vision for how this will be achieved.

Empower employees to strive towards this purpose in every task they do, alignment with this purpose is gold standard in creating an engaged culture. When employees feel connected with this sense of purpose they tend to go that little bit further for you, especially if it on some level aligns with their core values, they love being part of something bigger.
2) Communicate

Strong internal communication within your business leaves your employees feeling informed, empowered, secure and most importantly engaged with the vision and goals of the business.

Communicate openly, authentically and with transparency. At the core your people want to know what's expected of them, they need some sense of boundaries and structure to make them feel safe and secure to get on and do their job the best they can. Leaving them guessing means they are spending time and energy with uncertainty front of mind.
3) Provide Challenge

Providing positive challenges for Employees to extend their skills, thinking and responsibility can be an awesome way to motivate, develop and retain staff. Challenge your people to think differently, grow themselves and develop their skills.

This can often be achieved within the context of their roles, but also could be done by leveraging employees to participate in projects, weaving in space for new ideas or creativity into the business culture or by creating a company wide challenge that everyone has a part to play in.
4) Encourage Creativity

Humans are curious creatures, we love to explore and solve problems and find new, better, different ways of doing this. Encourage your people to tap into their curious nature and allow creative ideas to be explored.

To achieve this staff need to know that asking questions is always ok, and that possibilities will and can be explored when they have merit. Sometimes you also have to let your employees try and 'fail' here because it's the creative process that's most important, and the environment to do this in, not always the end result.


5) Incentivise Individually

This can be a hard one for many business owners to appreciate and implement, but it's so, so important. Not all people are motivated by the same things. To really benefit from incentivising staff you must know what they aspire towards and are motivated by, and build incentives to help them move towards that vision.

Recognise and reward them in ways which they value most. For some it's about time with family, for others it's monetary, for some it might be public recognition and for others it's a quiet thank you behind closed doors. The only way to find out is to be speaking with your team members individually, getting to know them and what's most important to them.
6) Listen and Hear

Active listening is one of the most critical leadership skills. Until we stop to listen to what our people are saying, and ask the right questions to really understand their perspective, we can never foster true employee engagement. Take time to listen and really understand what your employees are saying, they value this.
7) Foster Flexibility

Fostering flexibility in how, when and where your people work will allow you to attract the best and brightest at all levels of the organisation. Be open to non traditional work arrangements, the best people will excel when their work structure allows them to flourish in their personal life.

This has been no more obvious than throughout the first half of 2020 when, thanks to COVID-19 workplaces were thrust into remote work arrangements, whether they were ready for it or not. What we've witnessed is a monumental shift in understanding what can be achieved from a business perspective, and employees no longer seeing flexibility as a 'bonus' but now an expectation in their work.
8) Involvement

Involving employees in decision making allows them to feel empowered in the process and desired outcome, taking ownership for the decision and the end goal. It encourages your people to have a voice and know that it will be heard.

Involve and engage your staff in decision which impact them and let them be a voice for the direction and achievement of business success.
Get your 8 Ways to Create Employee Engagement Infographic here

Author:
Kristy-Lee Billett
About: Kristy-Lee has worked in the field of HR and recruitment since 1999. She holds undergraduate qualifications in Psychology, a Masters in Human Resource Management, is an Professional Member of the Australian Human Resources Institute.
Connect via:
LinkedIn